images from instyle.com and style.com/stylefile
What really says "modern" to me right now are new interpretations of a classic androgynous outfit: a blouse and pants. Recently I've seen a lot of these looks by Loewe,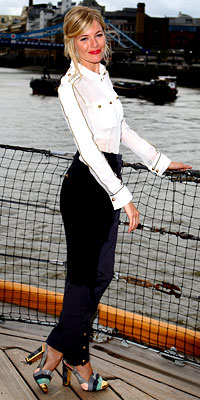 which is not often a designer you hear from celebrities in response to "who are you wearing" -- but maybe all that will change. Sienna Miller wore a gorgeous sheer blouse with contrast piping at the seams in London for her new movie GI Joe, and Victoria Beckham had great loose white pants with a v-shaped high waist. They are looks that could step from a yacht to the city street, to cocktails or even to the office. Versatility and sophistication all in one.
Also check out their gorgeous ad campaign
here
.